The Barrel Store has 14 rooms and can accommodate up to 43 guests. Our rooms are made with good quality materials and designed to be simple but stylish; almost all rooms are en suite.
Rooms can be booked online, either as part of a course or workshop booking (choose your activity first), or book independently below, or by calling us. Check-in between 4pm and 10pm.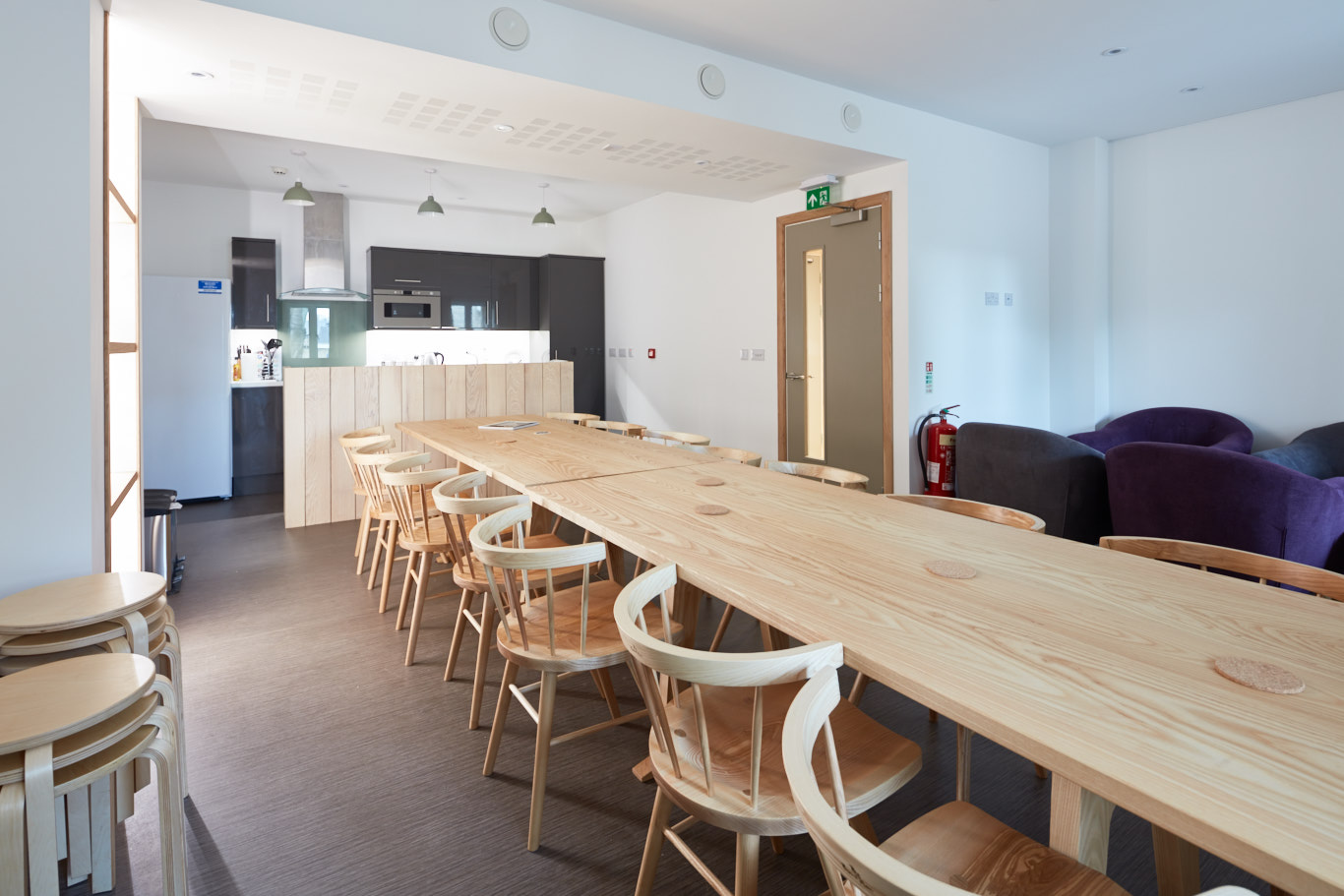 COMMUNITY ROOM
The Barrel Store has a community room with a small self-catering, communal kitchen and lounge where you are welcome to cook, eat and relax. The Community Room and its kitchen facilities are open for residential guests 5pm – 9am weekdays and all day at weekends. The Community Room is also available to hire for meetings and events.
Access
We have one room especially for guests who have special access needs. This ground floor room is suitable for wheelchair users and has an accessible shower-room. Adjacent rooms are available for carers.
Groups
The Barrel Store can be booked for various sized groups, either taking a whole floor or wing. If you have a group of four or more, or would like to book two or more adjacent rooms call The Barrel Store manager and we'll find just the right rooms for you and your group. See a plan of the Barrel Store here.
Exclusive Hire
Take the place for yourself. We have space for up to 43 guests, in 14 rooms. For family, for friends, for running clubs, for walking groups, for hens, for stags, for you and yours. See a plan of the Barrel Store here.
And to make your stay really special talk to us about arranging a bespoke workshop activity, take a look at our courses to get an idea.
Get in touch for details. Price based on hiring the whole place per night, workshops extra.
To book or discuss your requirements, please call The Barrel Store manager on 01285 657181
Accommodation terms and conditions are available here.
Searching Availability...
Make more of your visit to New Brewery Arts by dropping in to our Café, we serve great coffee and a delicious lunch menu, we use local, organic and fairtrade ingredients wherever possible.
New Brewery Arts is the place to come and explore the best of British craft and creativity. We have over 100 weekly courses and short workshops on offer each term and regularly changing exhibitions.